UNIC Crane lifts Red Bull flying machines from Prague river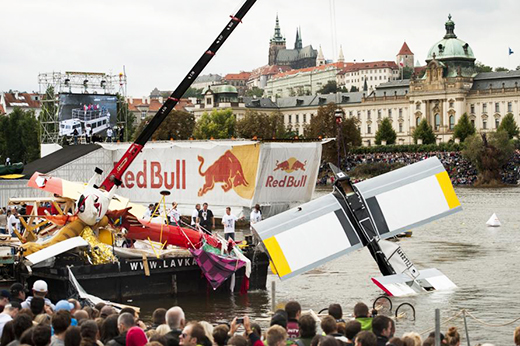 A mini crane hired from Czech UNIC dealers KMB Stavebni Servis s.r.o. worked from a pontoon on the River Vltava in Prague recently, helping out with the city's world famous Red Bull Flugtag event.
A 4 tonne capacity UNIC URW-547 mini spider crane was used to pull 40 home-made aeroplanes from the water after their attempt at flying. Each team taking part in the Flugtag builds their own human powered flying machine (which can weigh no more than 200kg) and jumps off a 6 metre tall pier in front of a crowd of 30,000 people.
The 5010kg UNIC URW-547 was lightweight enough to float on the pontoon, lifting each aircraft out of the water before the next team's turn.
 (Photos courtesy of Red Bull)